Sorry we have to stop the shipping again ;(( to complicated with ECO tax and aditional documents ....
I am sorry for all our Malta customers !!
We have found for the season 2020 a partner, he will help us with the shipping to Malta.
Parnis England Trucking Ltd.
60 South Street
Valletta / Malta
We can send the orders to an address in Germany and bring them ones a week by container to Valletta.
We charge you 10 € / package / up to 2 tyres for the shipping within Germany and you pay additional 25 € in Malta.
From the MALTA custom there is an ECO tax to pay and the rubber custom.
Hopefully this is a solution you can live with !!
We try it a few weeks, and if it not works we will stop again to ship to Malta.
---
The only way we could shipp to Malta was with DHL we have to pack the tyres in boxes.
But it takes sometimes weeks untill the packages arrives on the islands, and it was out of our hands to help our customers.
Some of them blamed us and give us bad reviews.
So we decide from 2019 to stop shipping to Cyprus and Malta !!
We apologies to all our long term good and understanfull customers.
---
Shipping - to Malta
you can check the shipping in the basket !
Depending on the size we can send 1 - 2 tyres in one package.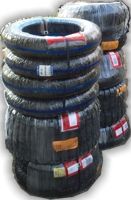 Delivery time to Malta - 1-2 weeks we send with DHL and they pick the packages ones a week.
Arrived in Malta the package are hand over to the Malta Post ... and then it is out of our hands how long it takes ;((
only to MALTA we must ship the tyres in boxes, what complicates the proces ;(
The boxes are 60 X 60 cm ... so 21" can be send just one with a smaler one.
We still are interested to deliver your island with cheap tyres, but keep patience with us !!