Shipping - to Malta
you can check the shipping in the basket !
Depending on the size we can send 1 - 3 tyres in one package.
smal tyres even 4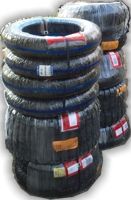 Delivery time to Malta - 1-2 weeks we send with DHL and they pick the packages ones a week.
Arrived in Malta the package are hand over to the Malta Post ... and then it is out of our hands how long it takes ;((
only to MALTA we must ship the tyres in boxes, what complicates the proces ;(
The boxes are 60 X 60 cm ... so 21" can be send just one with a smaler one.
We still are interested to deliver your island with cheap tyres, but keep patience with us !!