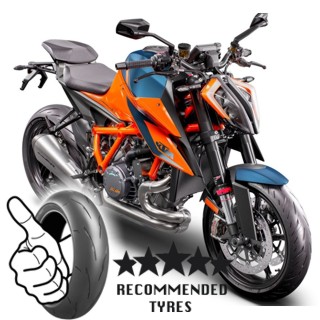 Technical Specifications
Tire ta 'quddiem
120/70 ZR17 58W
Pressjoni tat-tajer
2.50 bar
Rim
3.50 x 17 TL / Alloy
Tire ta 'wara
200/55 ZR17 58W
Pressjoni tat-tajer
2.90 bar
Rim
6.00 x 17 TL / Alloy
Ixtri tajers rakkomandati għal motoċikletti għal KTM 1290 SUPER DUKE R. Promozzjonijiet ta 'kuljum u skontijiet kbar biss fuq myNETmoto.com
Sib it-tajers ta 'motoċiklu rrakkomandati u l-pressjoni tat-tajers għar-roti fid-database tagħna! Għall-użu fit-triq, huwa essenzjali li tuża l-pressjonijiet tat-tajers rakkomandati mill-manifattur tal-mutur tiegħek.
Int issibha fil-manwal tal-rota jew fuq il-magna nfisha. Il-pressjoni ta 'l-inflazzjoni ddikjarata f'dawn id-dokumenti hija l-pressjoni meta t-tajers huma kesħin.
L-informazzjoni pprovduta f'din il-paġna hija għall-informazzjoni tiegħek biss. Int qiegħed tikxef bis-sħiħ il-mynetmoto minn kwalunkwe responsabbiltà fir-rigward ta ', jew bħala konsegwenza ta', pretensjonijiet infushom u / jew kwalunkwe parti terza għal ħsarat possibbli wara t-twaħħil ta 'tyres mhux permessi.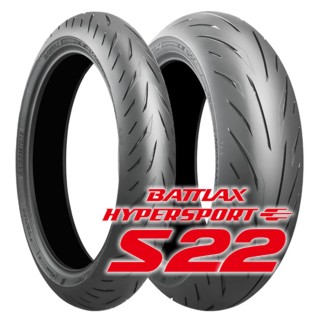 (incl. VAT exkl. Shipping)
KTM 1290 SUPER DUKE R
+ BRIDGESTONE S22

10.11.2019
Din ir-reviżjoni mhix disponibbli fil-lingwa tiegħek.
Kun l-ewwel li żżid reviżjoni għal dan it-tajer fil-lingwa tiegħek!

Show Original / Tissottometti reviżjoni
Warning! The following pairs are possible but not recommended by the motorcycle manufacturer! It is your own responsibility if you choose one of the following tire fitting!